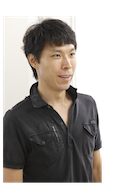 I am a certified AT teacher and a member of Japan Alexander Technique Society (JATS). I have given lessons at own studio in Tokyo, Ebisu since 2010. I have taught the Alexander Technique at J. F. Oberlin University for dancers and actors since 2020. I have also taught it at some fitness & bodywork studios and private guitar school. I held workshops at the AT congress both in Limerick, Ireland(2015) and in Chicago, U.S.A.(2018).
My lesson is for efficient use of our body, targeting to release excess muscle contraction from our use of the body. I have developed my unique way of teaching, and I named it "Aoki Method". (I explained its theory and method in YouTube videos: https://www.youtube.com/watch?v=UshvDrrEeBk&t=508s) The theory is more reasonable and comprehensive, and it covers some AT's unclear points in practice. Clients/pupils are able to learn the ideal state faster in fewer lessons with my method.
My AT teachers are: Jeremy Chance, Rosa Luisa Rossi, Cathy Madden, Sarah Barker, Lucia Walker, Vivien Mackie, Tommy Thompson. My book (written in Japanese) which explains my method and AT has been published since 2014, and it became the best selling book about the AT in 2015-16. The Chinese translated version (in Traditional Chinese) also has been published in Taiwan and Hong Kong.
I am giving online mini group lesson in English at every Thursday night from 19:30 (in GMT-4 time). If you are interested in it, please contact me.
YouTube: https://www.youtube.com/user/paulaokibody
Facebook: https://www.facebook.com/paul.n.aoki
Website*: https://aokimethod.com
*This site is mainly for Japanese. There is a page in English, need to click "world" mark at the top right corner in the top page.